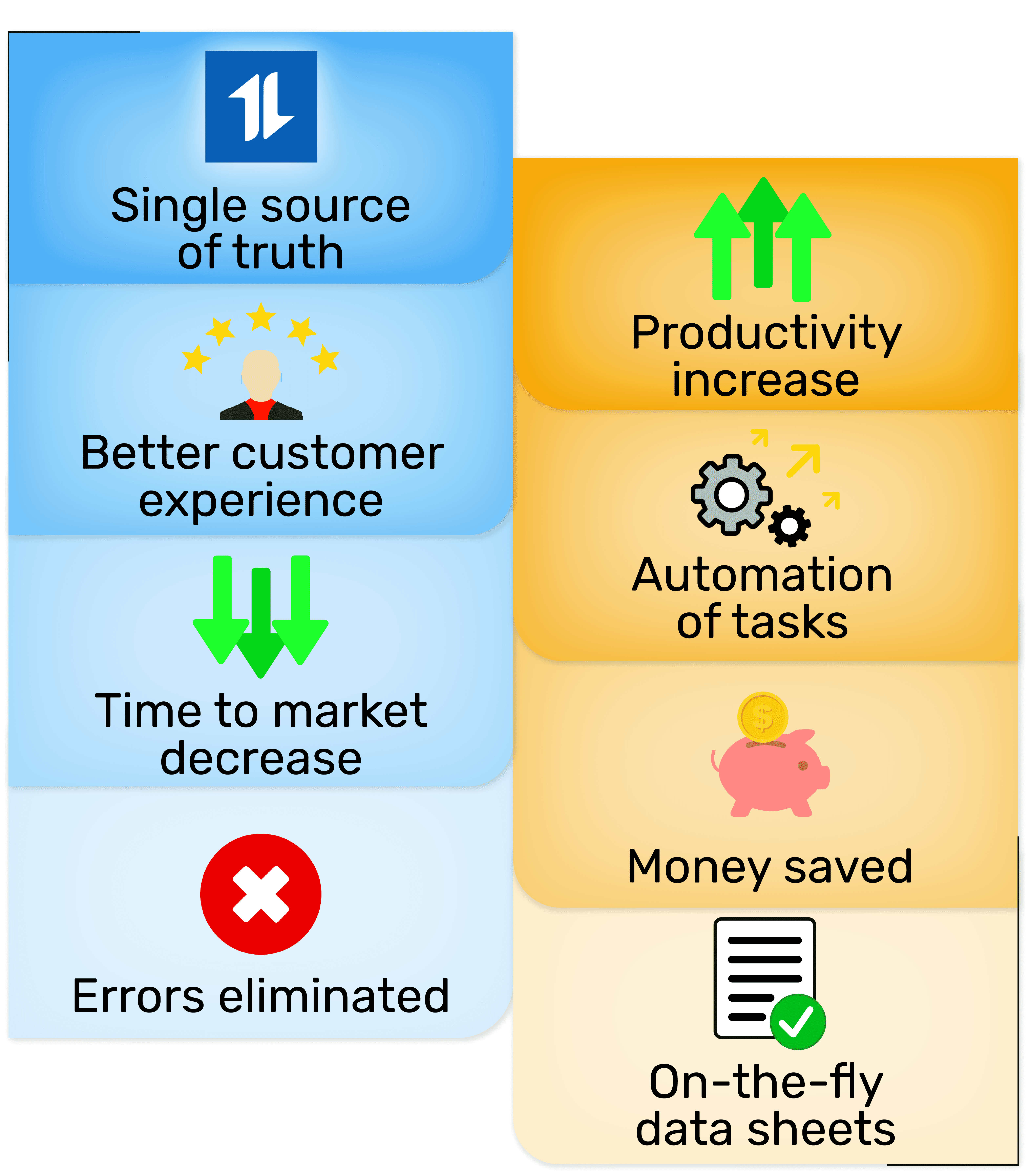 It's no secret that the management of product information can be quite a neglected part of business operations. It is often considered a burden on company resources. An unhelpful necessity that takes up lots of time. This is one of the reasons why the adoption of a PIM system might be disregarded.
Another reason could be that the rollout can be a bit complicated and involved. Do the company have the resources to take it on? So people favour their traditional but let's face it, out-of-date practices for managing data.
But when adopted, PIM systems are so much more than just managing product information. They become a central part of business operations, empowering staff to get things done. Here we explore the reasons why.
1) Processes become much simpler for staff
One of the primary benefits of implementing a PIM system is making life easier for many departments. This is because it acts as a single source of truth for product information.
What this means in practice is that every time a member of staff needs to view or change some data, they know exactly where to go. Furthermore, they go to the PIM knowing it will contain the most accurate and up-to-date data that the company has. This homogenisation of data is a huge time saver for staff across every department.
A second important point is that they are much better tools for managing the data. Products are grouped nicely into categories and families. Navigating between items can be done simply and efficiently using filtering. Images for each product are displayed next to the data, providing a visual indicator for the product being edited. Quite simply, it's a much friendlier user interface for all staff who are handling data.
2) Automation of some processes
A key feature of PIM systems is to automatically complete some of the tasks that are done manually by staff currently.
One of the main ways this is achieved is by sending product information straight to websites or sales channels.
Gone are the days when staff needed to edit all the data in a CSV file and then try to get that uploaded into Shopify or WordPress. With more technical products this process can be very time-consuming. A PIM system is able to distribute this information immediately using APIs, as soon as you've finished editing it.
Maybe you're a manufacturer who has retail customers that need regular product information files? Well sending them can be automated too. Just set up a scheduled export through the PIM system. This will distribute the required product information at a pre-determined day or time.
Then there are the dreaded data sheets, which aren't so dreaded when a PIM system has been successfully implemented. PIM systems will automatically pull all the information you need for a data sheet directly from the system and generate it on the fly. Better still, you can even design your own template for the sheet. The data is pulled with 100% accuracy from the system's data, so human errors are eliminated.
3) Data is always accurate and consistent for staff
The only thing worse than having no data is having bad data. A common function of PIM software is to have measures in place which enhance the quality of product information. These measures include, but are not limited to:
Blocking incorrect data being imported
Informing users if the data for a product is incomplete
Keeping units of measurement consistent across the same type of product
As a result, a PIM system essentially works WITH staff to help them identify mistakes, problems or inaccuracies in their product data.
Hopefully, you can see that PIM systems offer so much more than just storing product information. They allow data to flow freely around the company, empowering staff to get things done quickly. Time to market for new products comes crashing down. Businesses get more out of their workforce, boosting productivity and ultimately saving money.
Product information can be relied upon to be accurate and up-to-date. This gives staff confidence and improves the customer experience. This will boost the chances of repeat customers.
Basically, the right product data is always exactly where it needs to be when it needs to be there. All inefficiencies are ironed out as it moves around departments and onto customers.
If you want to find out about how OneTimePIM could help your company grow, book yourself in for a no-obligation free demo.