Custom Data Sheet Creation Tool
Customise your own dynamic datasheets
Save time and effort: Create professional-looking data sheets in minutes, without the need for advanced design software.
Improve accuracy: Dynamic updating ensures that your data sheets are always up-to-date and accurate, without the need for manual updates.
Custom designs: Tailor your data sheets to fit your needs with multiple templates and customisation options.
User-friendly: Our drag-and-drop interface requires no design skills, making it easy for anyone to create custom data sheets.
Bundle your created pages together for custom multi-page datasheets/pamphlets/catalogues.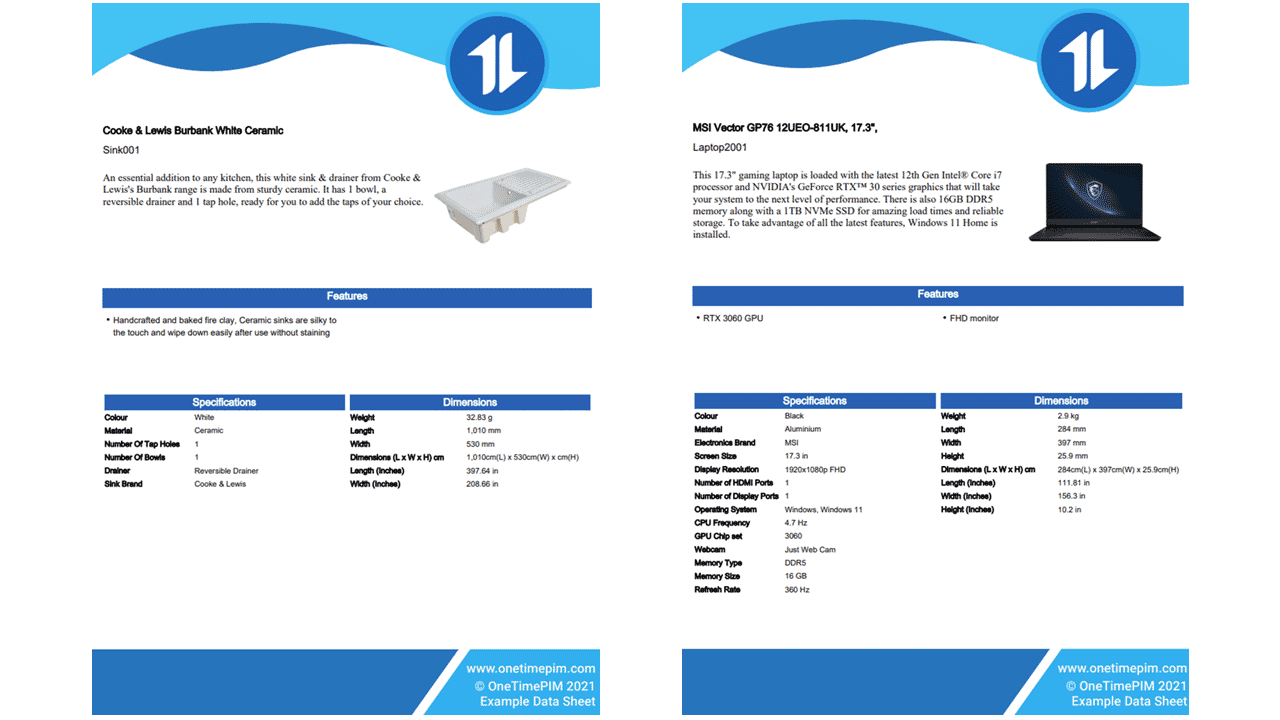 Our custom datasheet tool is designed to help you create professional-looking data sheets quickly and easily. With our drag-and-drop editor, you can create custom data sheets that showcase your products in the best possible way without needing to use InDesign or other complex design software.
Features:
Drag-and-Drop Interface: Our user-friendly interface allows you to drag and drop product information, images, and other data elements to create a custom data sheet that perfectly fits your needs.
Unlimited Templates: OneTimePIM allows for an unlimited number of design templates to be created for your products.
Customisable Template: With our tool, you can customise the layout of your datasheet to fit your needs. You can add, remove, and rearrange product information, images, and other data elements as needed.
Dynamic Updating: Our tool lets you include dynamic data in your data sheets, such as product variations. This means that your data sheets will always be up-to-date and accurate with the most recent data stored within OneTimePIM.
Exporting: You can save your data sheets as a PDF. These can be generated directly inside the PIM or through an API call to your OneTimePIM account. The PDF is generated on-the-fly and so is always up to date, and allows you to share your data sheets with others easily
Integrated with OneTimePIM: Our tool is seamlessly integrated with OneTimePIM, making it easy to create and manage your data sheets in one place. Your data sheets will only need templates to be created and OneTimePIM will keep those data sheets up to date, saving you time and effort
Whether you need to create data sheets for one product or hundreds, our tool makes the process fast, easy, and hassle-free. Try it out today and experience the benefits of professional-looking data sheets that showcase your products in the best possible way.
For further details see our blog.