ERP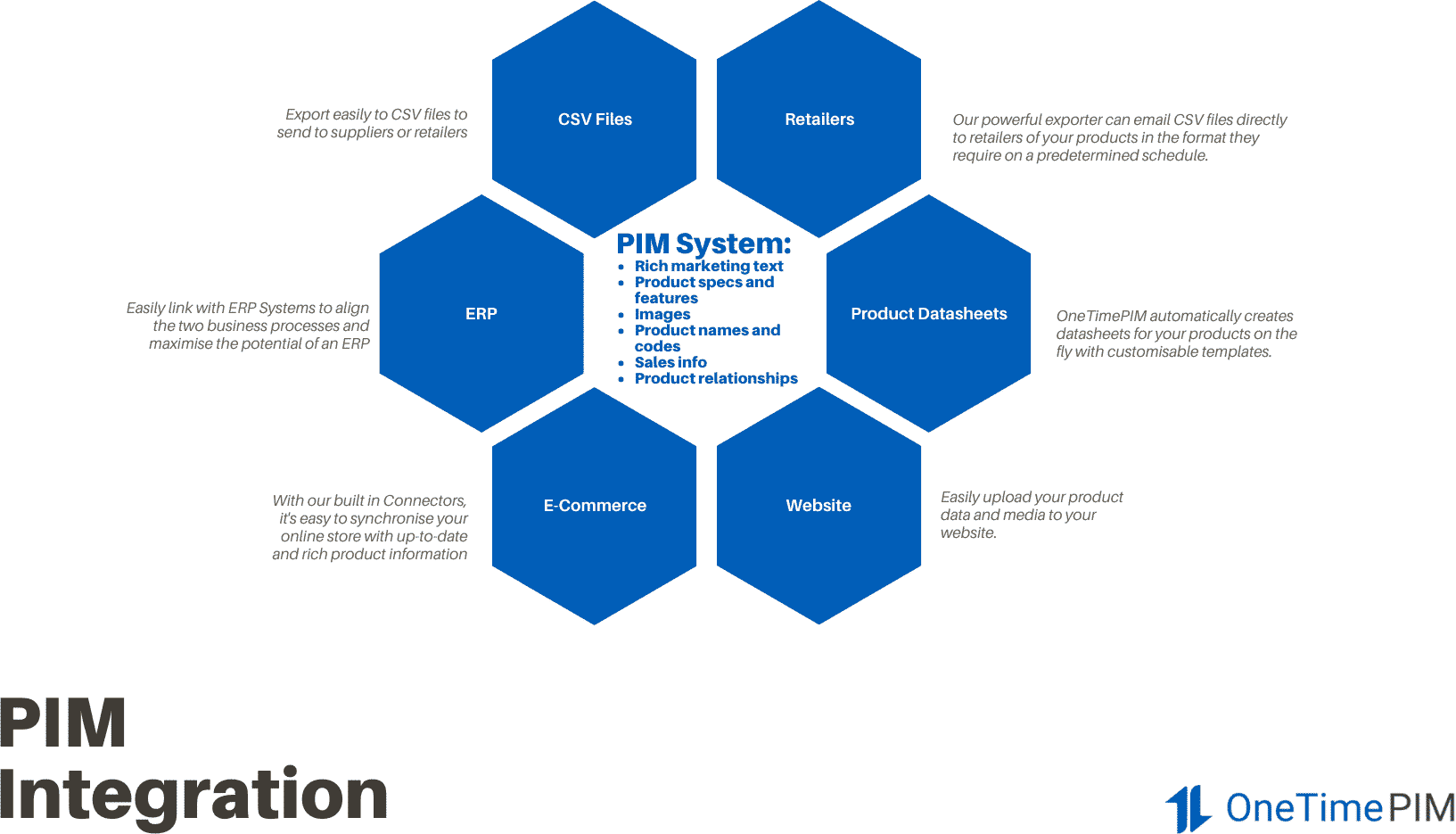 What are the main differences between PIM and ERP systems?
Product Information Management (PIM) and Enterprise Resource Planning (ERP) are two different types of systems that are commonly used in business operations.
PIM is a system that is used to manage and organize product information. It is often used to centralize product data and make it easier to access and update. PIM systems can help improve the efficiency of product management and provide better search capabilities for customers.
ERP, on the other hand, is a system that is used to manage and integrate all the different business processes and functions within an organization. ERP systems can include modules for managing finances, human resources, supply chain, manufacturing, and more. The goal of an ERP system is to provide a single, integrated system for managing all of the different processes and functions within a business.
While PIM and ERP systems may have some overlapping features, they are generally used for different purposes. PIM systems are primarily focused on managing product information, while ERP systems are focused on managing the overall operations of a business.
PIM and ERP systems are quite different. Enterprise resource planning refers to a type of software that organizations use to manage day-to-day business activities such as accounting, procurement, project management, risk management and compliance, and supply chain operations. PIM is software designed to store all of a company's products and the bits of data associated with them, then distribute that information anywhere that it is needed.
Essentially, the difference between PIM and ERP is that a PIM system is purely focused on product information management, digital asset management and technical specifications. An ERP system focuses on the management of transactional data that drives the company's workflows and business processes.
ERP systems are fantastic pieces of software that have plenty of benefits, but they are not PIM Systems. They are not built for handling product data and information the way a PIM System is. But not to worry! PIM Systems and ERP Systems can work together in harmony.
Our developers can work closely with your team to integrate OneTimePIM with any major ERP platform to streamline your product data practices.
Some of the benefits of the integration of PIM and ERP Systems:
ERP systems give businesses a top view of all of their products; managing products by orders and stock levels. On the contrary, PIM enriches product information by creating attributes and families. This allows you to categorise products, make sure the data is accurate and up-to-date, enrich marketing text, store technical specifications, automatically handle datasheets, store images alongside the products, and so much more.
Saves huge amounts of time when adding new products and variants. Entering or importing the data once into a PIM system means it can be distributed easily anywhere it needs to go. This includes ERP systems, but also e-commerce stores, other websites, product datasheets and to wholesalers/retailers/consumers.
ERP Systems are not built to edit product data in bulk while PIM Systems are. Integrated the two mean you can seamlessly update data in one location and have it distributed wherever it is needed automatically. Validation rules also ensure no errors will occur with this data, and permissions settings mean only certain people will be able to edit and publish it.
Filtering and finding products is very difficult within an ERP system. Within a PIM you can filter products and attributes easily and combine filters.
Products can be put onto a PIM System before they are ready for sale. This allows different teams within the organisation to edit the data, for example, the marketing department can enrich the descriptions while the technical department can fill in the product specifications. When it is ready to go live, whoever is in charge can publish the product which will automatically distribute it to your ERP and e-commerce website.
PIM and ERP are perfect complementary systems. Despite some overlap in functionality, they each serve different business purposes and specialise in different areas. Using them in collaboration with each other creates an extremely powerful back-end for your business, and we would love to help you integrate the two!