PIM vs MDM - A simple explanation
PIM is a tool specifically designed to manage a business's product data, whether that's technical details, images, prices, etc. PIMs are then able to distribute that information to sales marketplaces & customers automatically.
MDM is a system for synchronising a company's internal data. So that includes customer details, supplier information and more.
So PIM is a more specialised system, relevant only to products and the departments that deal with them. MDM covers the entire company and requires a much more extensive rollout.
Acronym History Lesson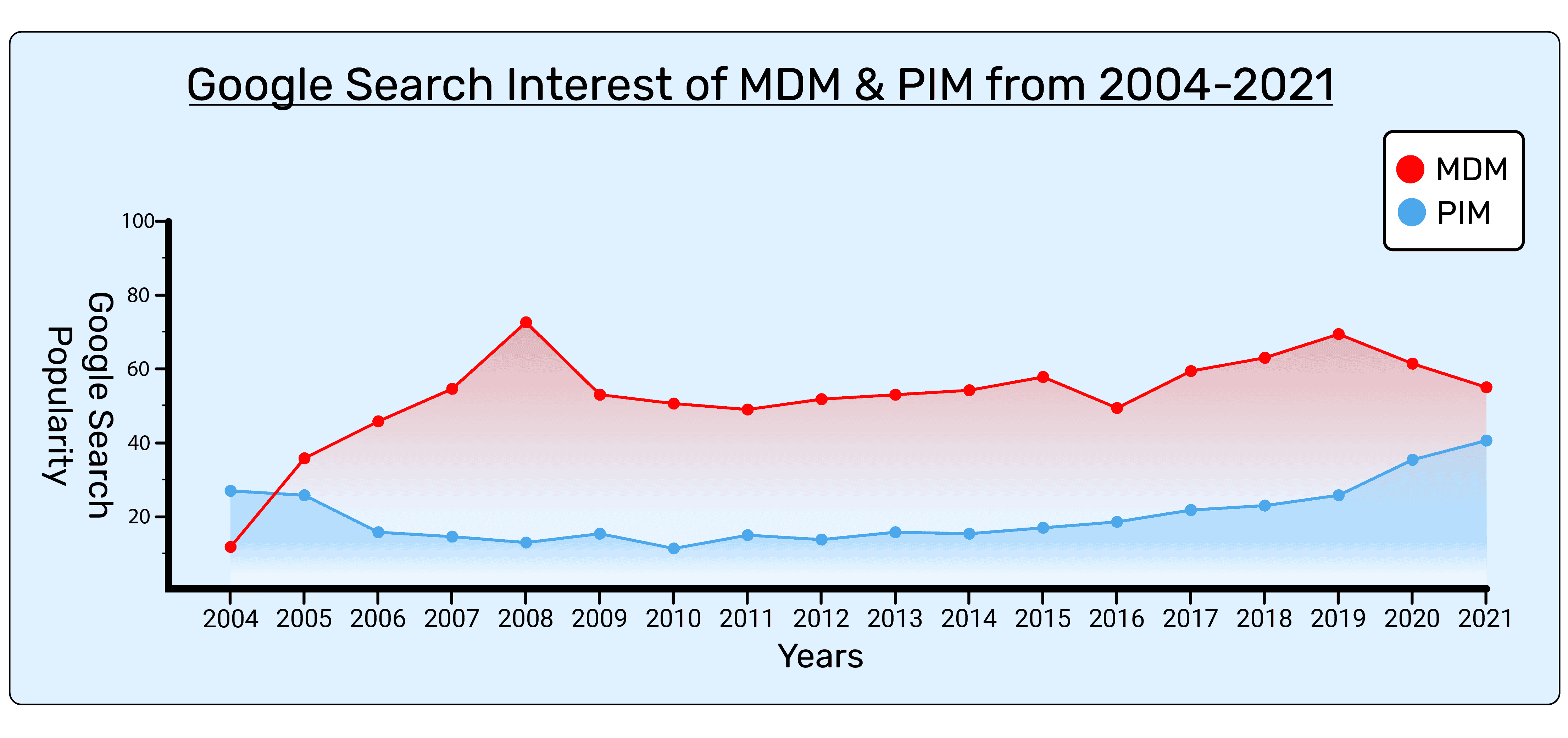 It's true that the software world loves an acronym. So what are the origins of MDM and PIM?
The most notable early writing about MDM appeared in 2007, in the book titled "Master Data Management and Customer Data Integration for a Global Enterprise". But, reviews suggested the authors did not have a full understanding of MDM at the time and may have been looking to take advantage of a new hot topic. Google Trends data suggests business interest in MDM picked up a couple of years earlier than that in 2005 (see graph above). This would back up those claims.
Businesses throughout history have always juggled their product information in different ways. The concept of PIM software is a more recent advancement to improve this practice. The earliest PIM companies started popping up in the early 2010s. But trends data suggests an interest in the topic has spiked over the last 3-4 years. In fact, that acceleration really increased in 2020, as businesses turned to eCommerce in the wake of the Covid-19 pandemic. It makes sense, as eCommerce is a sector where PIM software really drives productivity, especially with our built-in connectors for Shopify, WooCommerce, and Magento. But it certainly isn't the only industry.
Does my business need PIM or MDM?
To work out whether your company needs a PIM or MDM solution, we need to fully explore the challenges that each one solves. Below I have listed some example challenges and whether PIM or MDM would be the solution in each scenario.
Challenge 1: Increasing sales
If you are a retail or manufacturing company with many SKUs, enhancing the data of those products will likely increase sales. Particularly in this eCommerce age, where product information and images are so important for selling online. Enriched product information can boost the performance of website pages.
Solution: PIM
Challenge 2: Strategic decision making difficult
For companies that are struggling to know the right strategic decisions, often the reason is because of poor internal data. To fully understand the inefficiencies within a company, there needs to be a master data set for the directors to use to make informed decisions.
Solution: MDM
Challenge 3: Errors on sales marketplaces
If the business is having problems with mistakes and errors on its website or other sales channels, it's a product information issue. PIM systems help avoid these mistakes. Even automating a lot of the product information handling, so more accurate data makes its way to potential customers.
Solution: PIM
Challenge 4: Product information handling very time consuming
For businesses with thousands of SKUs, handling product information can be the biggest productivity drain on the company. This is prime territory for a PIM. Automating much of this process is functionality which just isn't offered by MDM. It's a more general programme, not specialising in product data.
Solution: PIM
Challenge 5: Poor communication between departments
If the business has communication silos between departments (you can read more about silos in business here), it could need an overhaul of the internal data. An MDM solution helps compensate for poor communication by preventing the duplication of incorrect information. It also allows every employee to see any data that is relevant to them, whether it's customer details or financial records. It's all there and it's all synchronised.
Solution: MDM
Challenge 6: Selling in many marketplaces
When selling items on many fronts, keeping track of it all can be time-consuming, particularly if you have a wide product range. This is where PIM systems really excel. They give you a central product information set which you can send to each marketplace automatically.
Solution: PIM
Summary
So Product Information Management and Master Data Management both have their uses in business, depending on the type of company and the circumstances they are in. The truth is, whilst there is some overlap between PIM and MDM, most companies would benefit from implementing both systems. They are certain to cut out mistakes and improve productivity. However, that obviously requires significant investment and time.
What is certain, is that whether you're interested in PIM or MDM, take time to explore all the options available. There are so many software companies out there with different solutions. Both PIM and MDM are important investments for a company so it's vital you take the time to get them right.
Because of this, at OneTimePIM we offer a no-obligation free demo and a free trial of our PIM system. So you can explore if it is right for you before making any commitment.
If you want, click below to secure a meeting and find out more!