When Big Ben chimes for the first time in 2021, the United Kingdom's transition period with the EU will have ended, meaning the country will have officially left the Single Market and Customs Union. This of course will significantly impact the electrical industry, as it will most businesses throughout the UK. If you are an electrical manufacturer, wholesaler or contractor, here are the key things you need to be aware of to be prepared for Brexit.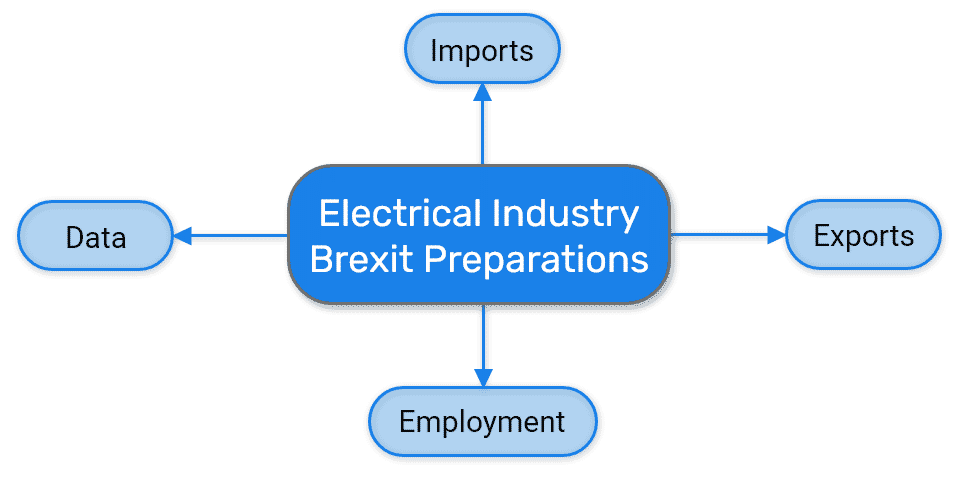 Exporting & Importing
Electrical goods are not considered restricted and therefore will not require a special licence to be traded with the European Union after December 31st 2021. But as with trading with the rest of the world, you will need to make customs declarations for goods that you are importing and exporting. You can either make these declarations yourself or hire a courier, freight forwarder or customs agent.
Any electrical goods which are being exported to the EU need to be CE marked, which shows they meet the European Union safety, health and environmental requirements. Electrical manufacturers and distributors are still able to use CE marking until January 2022. By doing so, the manufacturer is ensuring a product is valid for being sold throughout the European Economic Area (EEA). As the manufacturer, you have the responsibility to draw up the CE marking documentation yourself, following this template.
Another step that must be taken to move goods to or from the EU, is acquiring an EORI number which begins with GB. These can take up to a week to arrive and can be applied for on the UK government website. From the start of next year, you're also able to charge 0% VAT on most goods exported to the EU, but you will need to pay customs duties and VAT on all imports. From there, the final check is to make sure any business receiving the exports is also ready to accept electrical goods from outside the EU.
Employment
The rights of EU, EEA or Swiss citizens working within the UK are not changing immediately as we enter 2021. Checking a job applicant's right to work in the United Kingdom remains the same until 30th June 2021, however, they will need to apply to the EU Settlement Scheme to continue living and working in the country after that date.
There will however be a new immigration system from January 1st. If you plan to employ any EU citizens from outside the country, they will need to get a visa in advance. As employers in the electrical industry, you may also be able to sponsor skilled migrants. If your company is not already approved, you should consider getting a sponsor licence.
Data
For electrical manufacturers, one of the biggest challenges for trading with the European Economic Area in 2021 and beyond will be homogenising data. The ETIM classification will become more important than ever for trading with foreign companies, as it means that data transported between companies is formatted in the same way. It's becoming so important in fact, I will be writing a blog about it in the coming weeks (exciting!). UK electrical manufacturers and wholesalers are going to need their product information in good order to be able to trade with European partners because whatever happens, there will be more legislative requirements than there have been for decades. Strong data organisation will become a real asset for companies looking to expand internationally. There has never been a better time to invest in quality product information management.
Conclusion
Here are just some key aspects to be considered for electrical businesses in the UK when the transition period ends on 1st January 2021. To make sure your business is fully prepared for the change, visit the government's transition website and fill in the survey to find out exactly what you need to do.