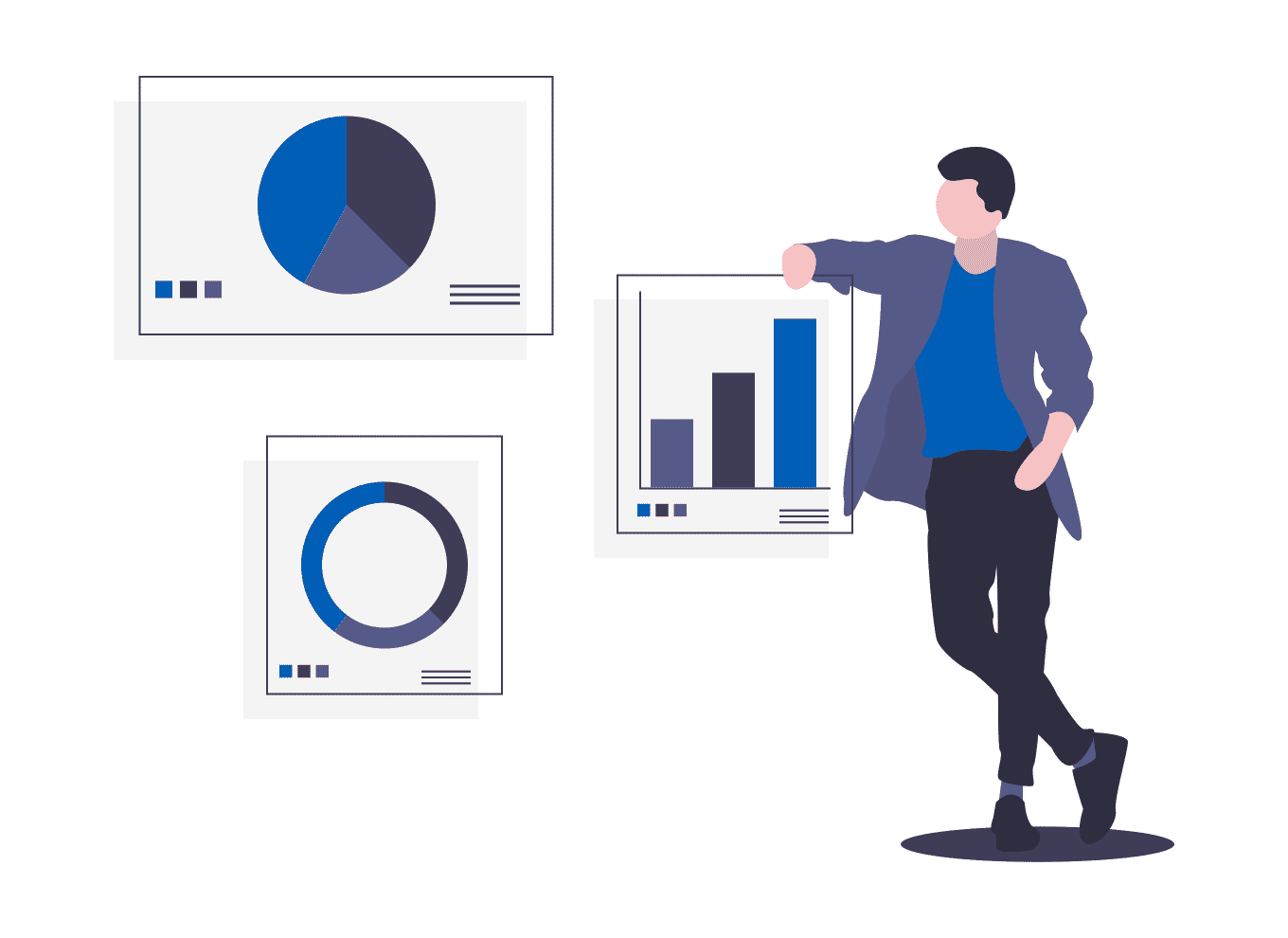 When developing our PIM system, one of the biggest priorities was the export engine. Being able to extract data from a Product Information Management tool is of course one of its most important aspects. So we looked at our competitors and set out with the aim of disrupting them by building the most sophisticated exporter on the PIM market. Something that was simpler, faster, more detailed, more automated and more customisable than any other. So we've put together six quickfire reasons why OneTimePIM is probably the most powerful exporter in the world...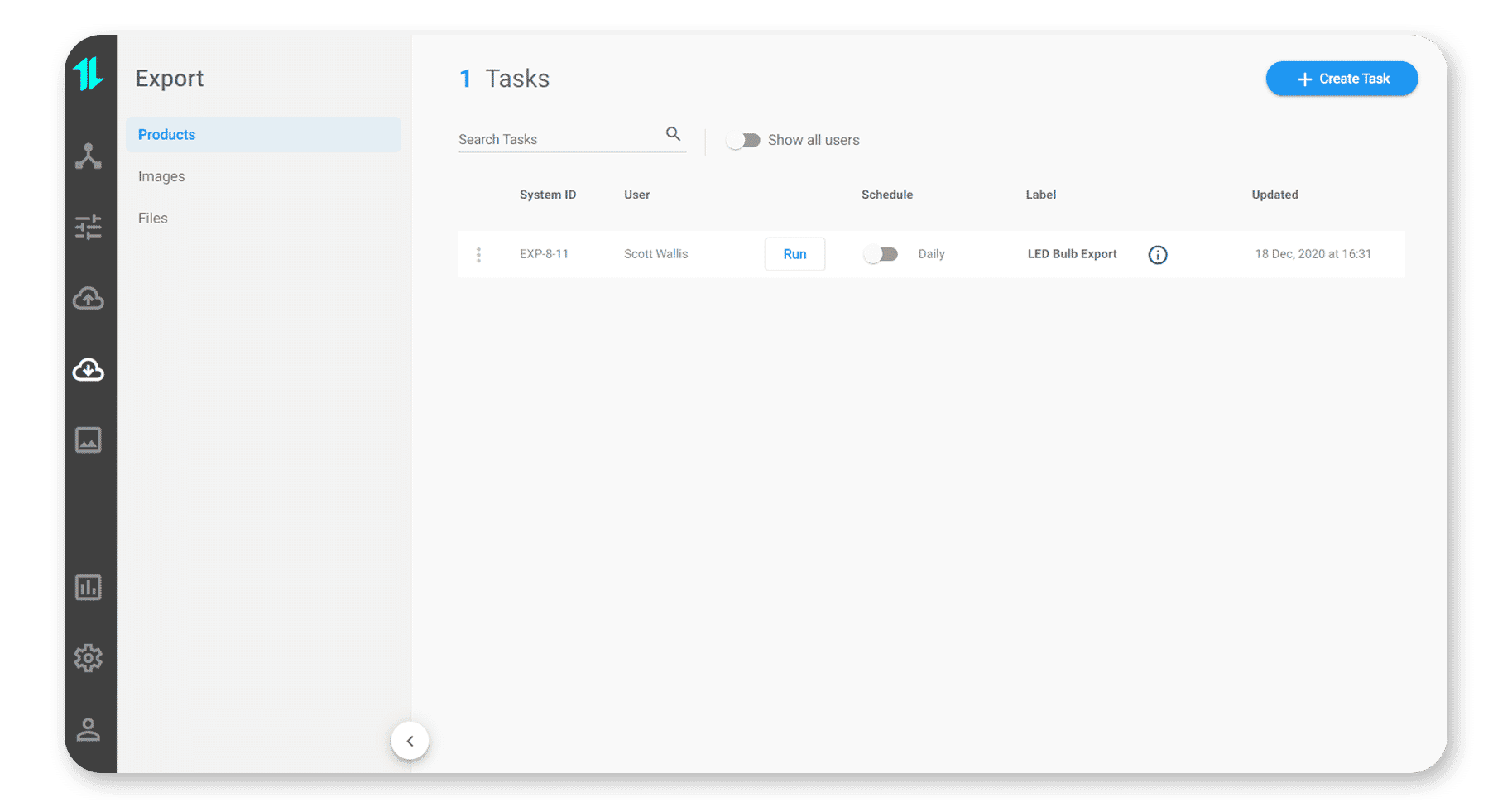 1. Export Scheduling
Nobody likes repeating the same old data export tasks, so we added a feature to stop that from happening. With our export scheduling, once you've set up a certain export, it can be made to repeat daily, weekly or monthly at any hour of the day, with no manual input required. The system will just email the exported file to as many recipients as you require, immediately after completion.
Obviously, the main driver behind this feature in the PIM system was to promote time-saving. Say you're a manufacturer, you're going to have wholesalers who sell a certain number of your products and they're going to be asking for the images and data associated with those products fairly regularly. This is when the scheduling comes into its own. An export can be set up for each customer, emailing them the images and data for the products they sell and it can repeat automatically every month, without any manual input. The system always exports the latest images and data, so the customers are always up to date. Of course, you're also able to modify the scheduled export at any time if they add new products, remove old ones or change their data requirements.
2. Advanced Selection Tools
As you would expect, the products that you want to export can be selected individually, all at once or by their categories and families, allowing for total flexibility.
The bit we're particularly chuffed about though is the individual product selection (pictured below). Here, you can pick out specific products to export, simply by copying and pasting their identifying number into the box. This tool works wonders on those occasions where a large spreadsheet lands in the inbox listing a specific range of products a customer needs data for. A simple CTRL+C, CTRL+V and the PIM system will be able to find the products you need to share. Easy!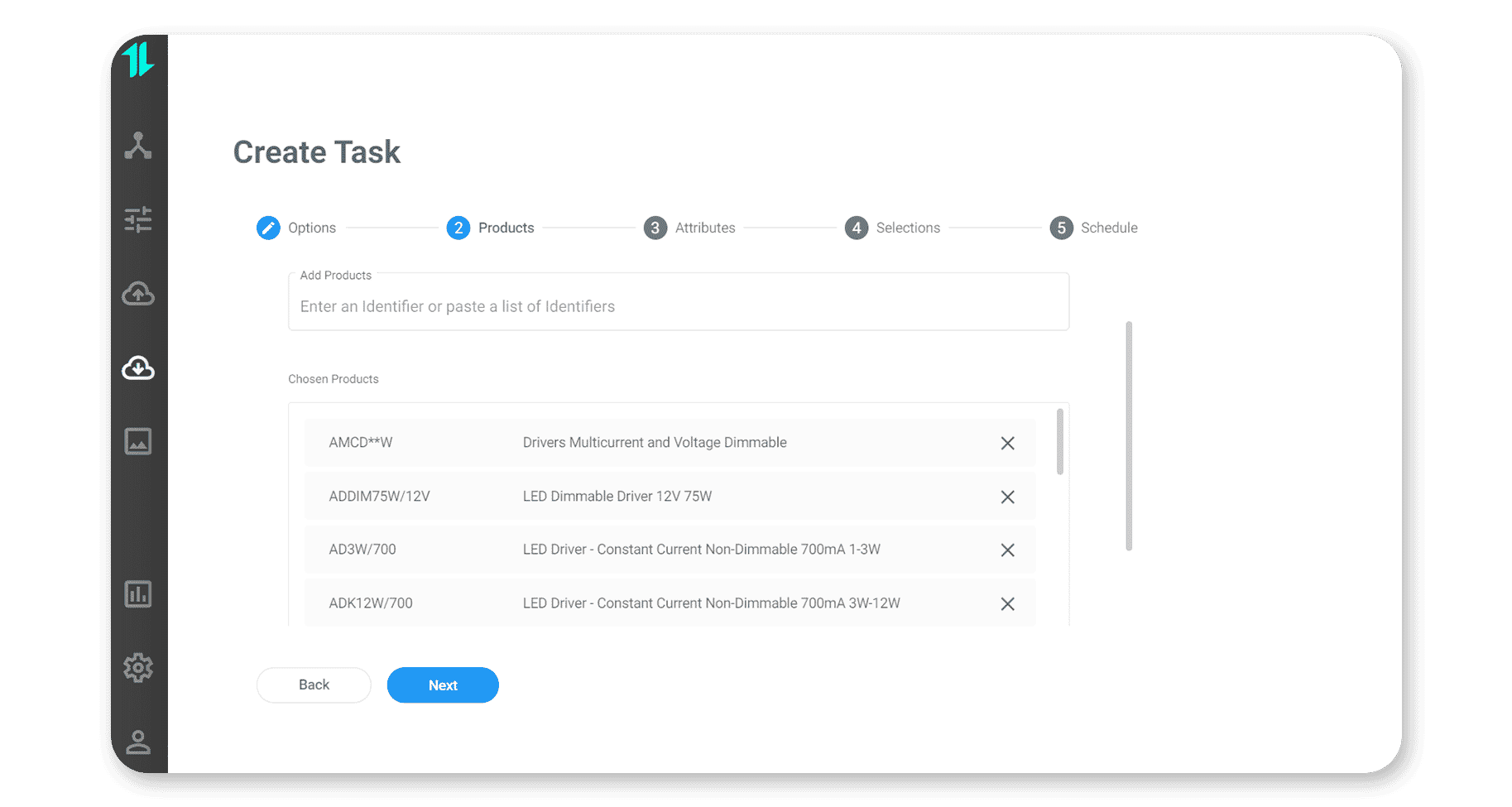 3. Attribute Management
So you've got the products you want to export, and now you need to manage which of the attributes you want to share. All of them? Certain attribute groups? Or just specific attributes? It's simple to select which attributes you want to be part of the export by ticking the relevant boxes. Once you're happy with the selections the customisation goes even further.
The order of the attributes in the exported file can be easily changed by just dragging and dropping. Furthermore, attributes can then be renamed for the export, to meet the criteria of the recipient. For example, let's say you have an 'Electric Potential' attribute in the PIM system, but the recipient of the export would rather call it 'Voltage', so you simply rename the attribute to their requirements (pictured below).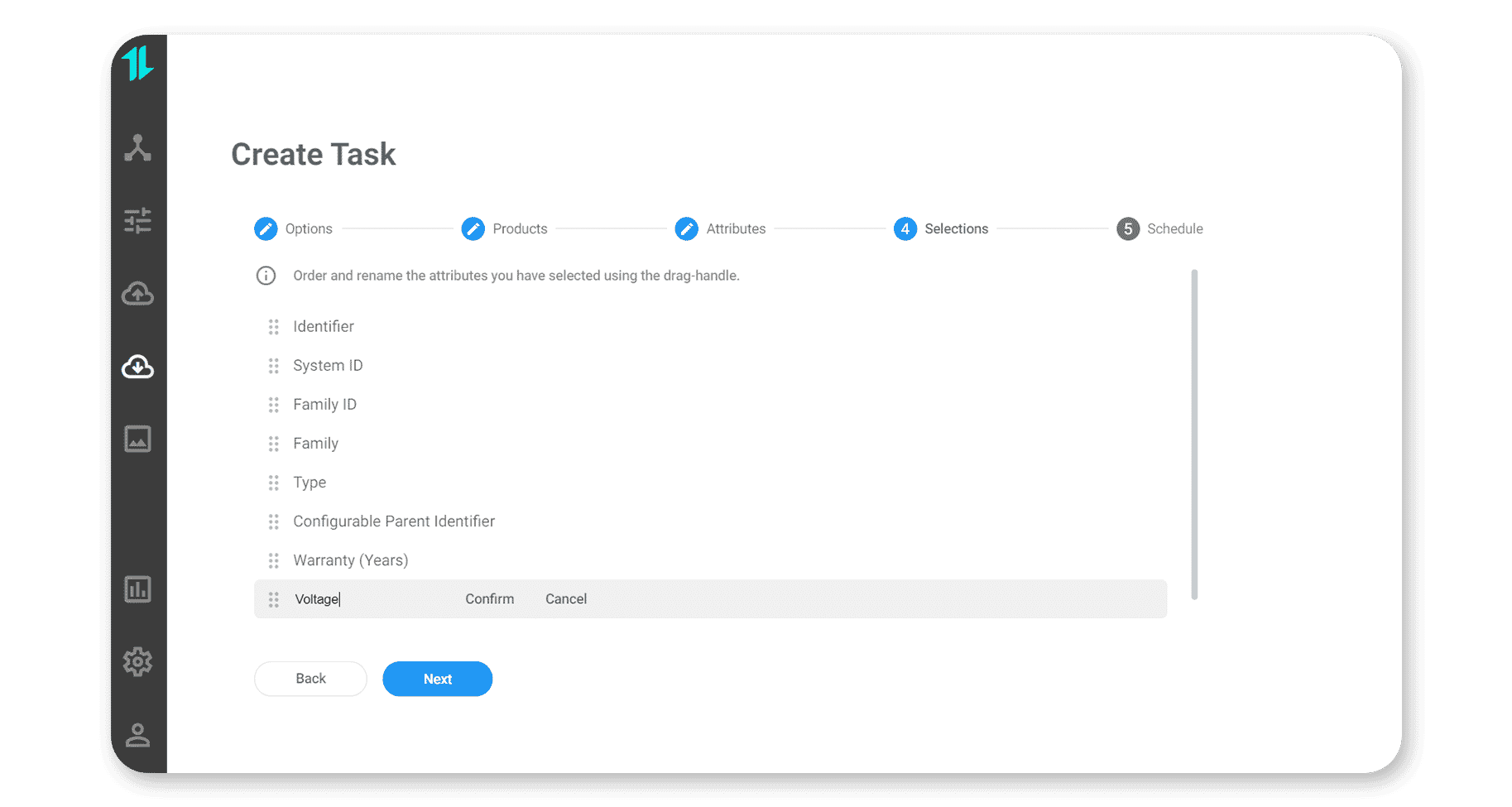 4. Advanced Product Filtering
Within the OneTimePIM system, you may have products at various stages of the supply chain. Products that are modified, new, live on the website or that have been taken offline. The filtering options within the exporter allow you to choose between these stages, so if you are dealing with new products that aren't yet on the market, you don't accidentally include ones already being sold within your export. You can also filter products based on their type (configurable, variant or simple) and filter by tags such as 'summer promotion'.
5. Image Customisation
OneTimePIM provides the option of exporting a product's images, along with the different attributes and pieces of data associated with it. This is a fairly standard feature for PIM systems, but with the aim of making ours better than the others, we went one step further.
When exporting images, you are able to choose both the dimensions and the format you would like the images to appear in. For example a 600x400 PNG or a 1400x800 JPG, or any other dimensions/file type that is required, regardless of the format of the original file! This auto-conversion and flexibility for images being exported raises the bar for customisation in Product Information Management tools. It's particularly useful when sending to customers with specific requirements for their ecommerce websites, which may have strict limits on image sizes or require specific format types.
6. API Links
This final one combines the flexibility of building a scheduled export task using the first five features with the power of APIs. Firstly, if you aren't clued up on what an API is then quickly see here, but they are an essential means of allowing software systems to communicate.
As a consequence of all the points listed above, once set up, exporting from OneTimePIM can become a fully automated process, saving users enormous amounts of time and repetitive tasks. The difference between the traditional method for sharing data and the OneTimePIM method is demonstrated in the graphic below.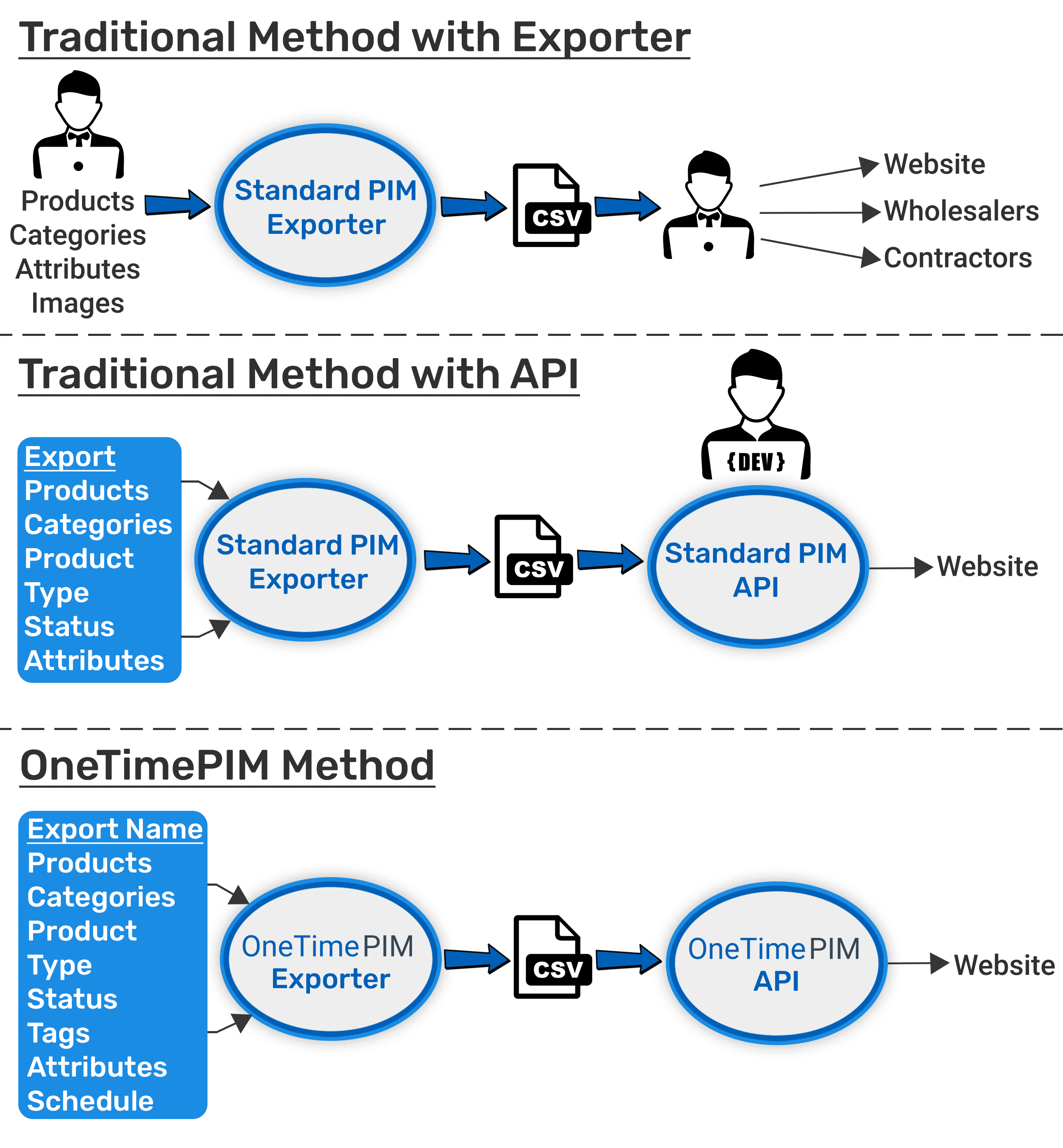 The traditional method illustrates the actions you as a user would have to take when exporting data. Every time you need to share information you round up the relevant bits, set the PIM system to export it as a CSV file, then you'd pick that file up afterwards and use it to send data where it was needed. Or if there was an API involved, each recipient would need it to be coded by developers to suit their needs.
But OneTimePIM changes that game significantly. For starters, once an export had been set up, the scheduler means that at a pre-determined time the system can pull all the required data automatically and form a CSV file. Then the API, which sits separately from the PIM, can call for that CSV file in exactly the format needed and distribute it to the required location where the data can be consumed. So you have all the benefits of an extremely customisable export engine, which works seamlessly and automatically with a flexible API, completely removing the need for human interaction, saving time and eliminating the possibility of mistakes. It happens without you having to think about it.
We built the OneTimePIM export engine to meet the needs of businesses that are looking to stay a step ahead of their rivals by boosting efficiency. Data management can become a huge burden for companies at all stages of a supply chain and a PIM's job is to make it easier and quicker. If you feel like the features spoken about would benefit your business, don't hesitate to arrange a free demo and we'd love the opportunity to talk you through them in more detail.